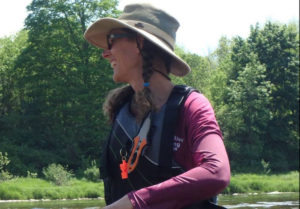 Tara Carpenter has had a love of nature and the outdoors from an early age, thanks to growing up on a Norfolk County farm and regularly engaging in wilderness camping trips with her family as a child.  Travelling many parts of the world for 17 years expanded Tara's knowledge of the natural world and her love for this earth, we call home.  The most memorable experience of her travels was being a deckhand on a sailing ship exploring the Great Barrier Reef in Australia for 6 years. Now being a mother to a very active, creative, and outdoor loving 7 year old, has inspired Tara to encourage other parents and their families to get outdoors.
She is a recent graduate of the Adventure Expeditions and Interpretive Leadership Diploma program at Fanshawe College, Simcoe Campus (video). During this time she received honors and multiple awards showcasing her leadership achievements and passion for environmental stewardship.
She also sits on the Board of Directors of the Long Point World Biosphere Reserve Foundation. Tara holds certificates in: Wilderness First Responder, Team Building, Cross Country Skiing, Working on Ice, Introduction to Ice Rescue, Health and Safety, and Whitewater Rescue Technician. Being currently employed with Grand River Rafting as a supervisor, where hiking and river-guiding keeps her in the great outdoors.
"My dream with GROWE is to instill in others the love, passion and respect I possess for nature. I believe that the benefits of engaging our youth in the great outdoors are immeasurable. I hope to inspire both children and their families to engage regularly in the natural world."