Five Oaks welcomes volunteers to lend a helping hand at any time with various tasks. Whether it be by joining one of our Work Camp programs or coming on your own, you are always welcome. There are opportunities available for any age and stage of life.
If you are interested in volunteering or wish to learn more about volunteer opportunities, please email hospitality@fiveoaks.on.ca or give us a call at 519-442-3212.
Five Oaks is also currently seeking volunteers with the following skills:
This person would contribute to the excellence of Five Oaks' Human Resources policies and practices.
Five Oaks is seeking volunteers to work with enthusiastic and creative staff and volunteer colleagues committed to promoting the new vision for Five Oaks.
This is a volunteer position for someone who is committed to the vision and mission of Five Oaks and wants to foster its implementation by providing spiritual, theological and personal support to Five Oaks Board of Directors.
To submit your expression of interest for any of these position, please email the Chair of the Board of Director, Yvonne Stewart at y.stewart@sympatico.ca
Upcoming Volunteer Events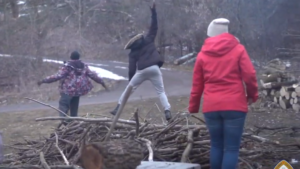 With Brian Hershey
Open Dates
Five Oaks
Five Oaks invites you to come out for a fun day of volunteering any Thursday. The  primary focus for Thursday's is the bush and tree clearing over the septic system.  This  outdoor activity is an essential part of the Five Oaks restoration.  Teams have done major work already; however, we need to clear every spring and fall until the roots and scrub bush are gone. Outdoor and indoor tasks  are available for all skill levels and abilities.  Outdoor tasks include burning brush, cutting off branches to putting wood into truck and stacking down the hill. It is probable you will learn some…
see more...
Open Dates
Five Oaks is looking for people willing to become Volunteer Weekend Hosts. Skills/Knowledge required: Experience with Five Oaks. Previous experience in leadership position, preferably within Five Oaks. A can-do attitude and creative problem-solving within organizational and safety boundaries Role Description: As Volunteer Weekend Host, you are the first person that most groups will meet when they come to Five Oaks. As such it is important that you are able to give our guests a good first impression. In this role, you will be expected to have the knowledge, attitude and skills needed to: Welcome guests as they arrive Provide tours…
see more...