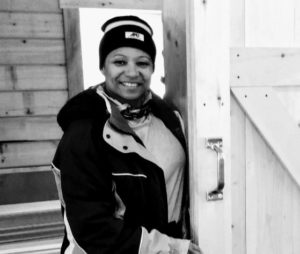 Patricia Jones experienced her first adventure at the age of one year old, crossing the Atlantic Ocean by ship. This trip imprinted in her, an adventurous life. Patricia then traveled from France to many other countries in Europe, North America and lived in St Maarten for 11 years where she was self- employed before coming to Canada. She is an athletic individual, running, biking, hiking, kickboxing along with gardening, cooking, camping and kayaking. Patricia has been teaching in Canada for 15 years for the French School Board, transmitting her language and French culture through creativity and arts, making a positive impact in her student lives.
Patricia is a mother of a beautiful and talented son, who grew up in the countryside of Norfolk County and experienced the outdoors and travel that is so important.
She is kayaking for over 12 years, now is working as a guide and a Paddle Canada instructor. She is a graduate of the Adventure Expedition and Interpretive Leadership program at Fanshawe College, Simcoe and enjoys leading groups to discover the beauty of our region, and to increase people's awareness for protecting the environment and wildlife.
Working with GROWE, Patricia has many skills to transfer to the youth and her creativity will take over and inspire children in their daily outdoor freedom.