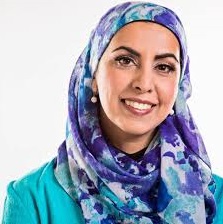 Zarqa Nawaz created the world's first sitcom about a Muslim community living in the west. Little Mosque on the Prairie premiered to record ratings on the CBC in 2007. It finished airing it's 91st episode in 2012 after completing 6 seasons and is now being broadcast to over 60 countries. The show demystified Islam for millions of people around the world by explaining how practicing Muslims live their lives. She has made several short comedy films including Death Threat, Random Check and Fred's Burqa.
In 2005, Zarqa Nawaz made the ground-breaking documentary Me and the Mosque, about Muslim women's battle with patriarchy in the mosque which ultimately inspired the Little Mosque television series. Zarqa Nawaz has written her best selling comedic memoir Laughing All the Way to the Mosque, about growing up as a Canadian of Muslim faith.  She is also a frequent public speaker on Islam and comedy, gender and faith, multiculturalism and plurality.
Zarqa has a B.Sc from the University of Toronto and a B.A.A in journalism from Ryerson University and currently lives in Regina, Saskatchewan.