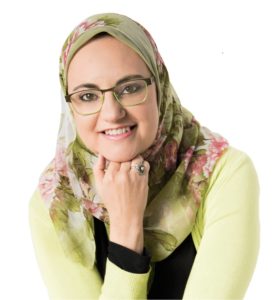 Dr. Amira Ayad is the founder of Women Whispers Academy where women learn to listen to their Body Whispers® before they turn into screams. Dr. Amira holds Masters degree in Pharmaceutics and Ph.D. in Natural Health.  She is currently pursuing her Maters in Pastoral Studies-Muslim Stream at Emmanuel College-University of Toronto.
She was a faculty member at the faculty of Pharmacy, Egypt, and at the Institute of Holistic Nutrition in Toronto. She currently works as a Spiritual Care Practitioner at Scarborough Health Network.
Dr. Amira's practice combines the best of both worlds: Science & spirituality. She published six books. Her books have been translated into more than 10 languages and read and taught by thousands around the globe. Her newest addition is Body Whispers: Unraveling the Emotional & Spiritual Roots of Illness.