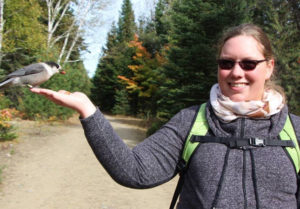 Jessica McGregor has had a special connection to nature since she was born, having a particular passion for animals and water.
Jessica has been canoeing since she was 2 years old, and kayaking from the age of 9. As a child, she spent most of her summers in Algonquin Park bonding with her family and the environment. Jessica attributes most of her passion for environmental education to Algonquin Park.
She has graduated from the Adventure Expedition and Interpretive Leadership course at Fanshawe College (video). During this time Jessica learned business management, proposal writing, plant and tree identification, animal identification, environmental sustainability, advocacy & leadership, basic environmental law and program development. She is certified in Wilderness First Aid and ORCKA basic level 4. Jessica also received The Long Point Eco-Adventures Leadership Award.
Since finishing the Adventure Expedition and Interpretive Leadership program, Jessica has obtained certifications for Wild Edibles and Medicinal Plants, Plant and Tree Identification, Team Building Certification and Introduction to Beekeeping. Jessica has also completed the Safe Hiker Program and is a Certified Hike Leader.
Jessica has a passion for the outdoors and through GROWE wants others to see the beauty and peacefulness it can bring to our lives. Jessica strives to show others the importance of the environment, the creatures within it and how we are all connected.
Events with Jessica McGregor