Healing with Art and Stories – January 2021
With Dr. Amira Ayad
January 23, 2021
Back by popular demand!
So many people wanted to participate in this program, we are pleased to offer another Saturday online workshop with Dr. Amira Ayad – Healing With Art & Stories – on Saturday, January 23rd.
UPDATE Jan 18th: The subsidized (under-waged/unwaged) spaces for this program have all been filled.  As of today there are three spaces remaining on the program at  $85.00.
This is an interfaith intimate retreat for women (limit – 10) that will take you on a journey of healing and self-transformation. It will be the same workshop that was offered in December 2020.
We will be using Narrative & Art healing modalities for re-framing our stories of personal search for meaning, health, and happiness.
The retreat is based on the 7 I's of Transformation model that integrates Islamic tradition with Joseph Campbell's Hero's Journey, and the Ayurvedic Chakra model of human development.
This year, we will focus on Jonah's story. Join Amira on this journey as you will delve into of belly of the whale, explore your innermost cave to get in touch with your deeper emotions, emerge with a richer, happier and more fulfilling narrative, and maybe find your calling along the way.
You will be using art and journaling to develop your "Heroine's Journey," your personal story of courage and vulnerability; you will be integrating your experiences of joy and pain, love and frustration, health and wounding, ups and downs… You will be weaving your own preferred richer narrative that will enable you to find your own unique life meaning and purpose, to find happiness and health.
The schedule of the day will be:
10:00 – 11:30  First session together, on line, with Amira and course participants
11:30 – 1:30  Off line time for individual guided reflection and meal break
1:30 – 3:00 Second session together, on line, with Amira and course participants
3:00 – 4:00  Off line time for individual work/reflection
4:00 – 5:00  Closing session online together
Leader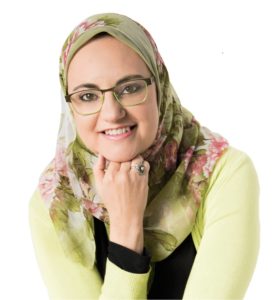 Dr. Amira Ayad
Dr. Amira Ayad is the founder of Women Whispers Academy where women learn to listen to their Body Whispers® before they turn into screams. She holds a Masters degree in Pharmaceutics, a Ph.D. in Natural Health, and a Masters in Pastoral Studies from Emmanuel College, University of Toronto. Dr. Amira served as a faculty member at the faculty of Pharmacy, Egypt, and at the Institute of Holistic Nutrition in Toronto. She is a Natural Health Consultant, Registered Psychotherapist (Qualifying), and currently works as a Spiritual Care Practitioner at Scarborough Health Network. Dr. Amira's practice combines the best of both worlds:…
Learn more about Dr. Amira Ayad