Companions Mini-Retreat
With Karen Eade and Kevin
Package Dates
In living more deeply into our vision as an interfaith/intercultural spiritual centre, Five Oaks is offering a new retreat opportunity starting in September 2019.
This is a one night 'mini retreat' that is offered weekly from Sunday late afternoon to Monday evening in Friendship House or Peace House.
Companions will be led by Karen Eade who is our spiritual-guide-in-residence each week.
"Companions" are those who – literally – "break bread together".  As companions we come together to refresh ourselves, experience community, take time apart and deepen our spiritual lives – however we express our spirituality.
Companions stay in a retreat house with Karen and her 'co-leader' – her dog Kevin who is a non-shedding breed (less likely to cause allergic reaction) and trained as a therapy dog.
(if a dog allergy is a concern for you, there is accommodation available in another retreat house or the Main building.  Contact fiveoakscompanions@gmail.com if this is a concern).
There is room for 3-5 people each week, depending if you are sharing a room with a friend or not.
The cost is $40 per person  which includes a community lunch on Monday and shared accommodation.  Private accommodation is available for a slighter higher price.  Retreatants are invited to bring food to share for other meals.  There is a living room, dining room and full kitchen.
There is an option to stay an extra night on Monday if you wish. You can select this option on the registration page.
If you would like to attend the Companion retreat and have mobility concerns, we can provide accessible accommodations. Please call us at 519-442-3212 to share your needs with us – we want to make this retreat opportunity barrier-free as much as possible.
Companion mini retreats are always Sunday afternoon through Monday late afternoon. Spiritual Practice open to all is Monday at 12:00 noon in the Prayer room in the Main Building, followed by Community Lunch in the Dining Hall.
Check-In to Rooms/Accommodations is Sunday at 4:00pm, however you are welcome to come early and enjoy the property prior to this! Walk the labyrinth or one of the trails, spend some time in our prayer room, or enjoy a peaceful spot by the river.
Please note that your registration is confirmed only once we have contacted you after registration.
Dates
Companions mini retreats are available Sunday night/Monday.
2019 –  Open from September 8th through December 16th, 2019. The following dates there will be no retreat held:  November 17-18 2019 & December 1-2 2019
2020 – The following dates have been confirmed so far: Jan 12-13, Jan 26-27 and Feb 23-24. Monday Spiritual Practices will be every Monday at noon, starting January 13th.
Leaders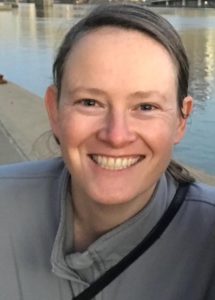 Karen Eade
Each week, the Companions are accompanied by Karen who also leads the Monday noon spiritual practices.  Karen is the spiritual-accompanier-in-residence part time at Five Oaks. Karen is a Minister, Play Therapist, and Marriage & Family Therapist.  She loves to spend as much time as she can close to water, be it lake, ocean, or river.  Karen can usually be found laughing too loudly, napping frequently, and talking deeply.  Home for Karen is Burlington and work is in Bradford as a therapist working with children and parents.  Karen is passionate about safe and sacred space for children, youth, and adults to…
Learn more about Karen Eade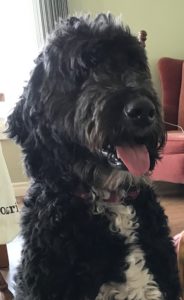 Kevin
She's a non-shedding dog, gentle, and full of love. Kevin (yes, Kevin is a 'she') is Karen's side-kick and co-leader of the Companions retreats. Kevin is a 3-year-old Bernadoodle that calls Burlington home and Karen her roommate.  She is a proud graduate of training school where she shepherded Karen through.  Kevin's interests focus around napping and she is happiest to rest her chin on your knee (if you're ok with that) or fall asleep at your feet. (if you are concerned that Kevin will provoke an allergic reaction, talk to us and we can provide alternate accommodations).
Learn more about Kevin